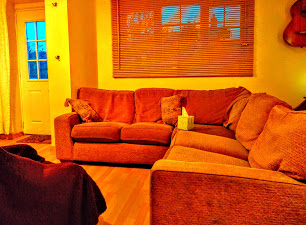 Psychotherapy at Newid
Based in North East Wales, Newid have been offering Psychotherapy to Groups and Individuals both within the NHS and independently since 2011.
Psychotherapy is a process in which people engage in order to better manage, understand and address emotional difficulties often associated with personal adversity, trauma, abuse or neglect.
Paul is an Integrative Psychotherapist who works from a Developmental / Relational perspective in which the therapeutic relationship between the client and therapist is believed to be the key factor in emotional change and growth.
If you are choosing a Psychotherapist it may be important to know something about their background. You should feel comfortable in asking about your Psychotherapist's professional experience and level of training.  You are entitled to ask about membership of professional organisations.
Your Psychotherapist, Psychologist or Counsellor should be able to give a clear outline of their work history. It is important to remember that you are entitled to ask these questions. You should feel that the person you are working with has the clinical experience necessary to help you with your difficulties.
Your Psychotherapist should develop a "Crisis Plan" and "Psychotherapy Contract" with you. The Crisis Plan outlines what to do if you feel you are having a Mental Health crisis. The Psychotherapy Contract should outline how often you agree to meet, costs of the therapy, what to do in the case of cancellations and other practical issues associated with the therapy. 
Qualified and approved Mental Health professionals working independently should be registered with a professional body. In the case of Psychotherapists this is likely to be the UK Council for Psychotherapy (UKCP). In the case of Counsellors it is likely to be the British Association for Counselling and Psychotherapy (BACP). You can check membership through their websites.  
Your Psychotherapist should have a valid DBS certificate which you are entitled to see. All Psychotherapists are obliged to hold a current Disclosure and Barring Service certificate which is issued by the government.  
Your Psychotherapist should have valid Professional Indemnity Insurance and you are entitled to see this certificate.
Exploratory Psychotherapy
Exploratory Psychotherapy helps individuals uncover and explore past experiences which have led them to experience emotional and relationship difficulties. The relationship with our Psychotherapist is a key factor in helping to understand patterns in our lives which can be unhelpful or destructive.
Fees – £50 per 50 minute session
Couples 

Therapy
Choosing to go to couples therapy can feel like a big decision. It involves admitting that things are not perfect in your relationship and deciding that you want to work on resolving your difficulties with your partner. Couples often decide to enter into therapy when trust has been broken, communication is poor and arguments become more frequent.
Fees – £50 per 50 minute session / £70 per 90 minute session
Group   

Psychotherapy
Group Psychotherapy is a way of understanding our difficulties in relation to group processes. It is concerned with the relationship between a person and the group and explores the relationship between public and private, self and other and helps us understand emotional difficulties in a more social context.
Fees – £120 per month for weekly Group Psychotherapy (2 hours per week)