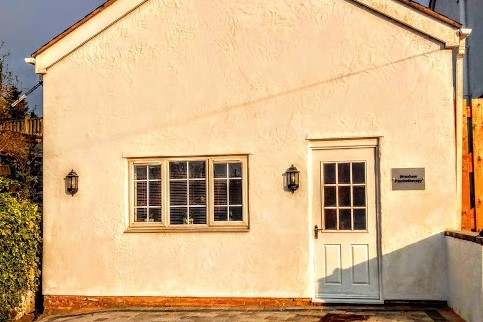 Online Psychotherapy and Counselling
"Newid" have extensive experience in offering Remote Counselling and Therapy through the medium of Skype, Zoom or by Telephone. We offer therapy to people who have sought us out to work in this way due to their rural location and in some cases we have worked with people as far afield as Essex, Scotland and rural Lancashire. Please contact us to discuss this form of Therapy as an option.
Of course many people continue to wish to be seen face to face and Newid have offices and Therapy rooms in Llandegla, and Wrexham Town Centre. Paul works from the "Newid Psychotherapy and Counselling" offices in Llandegla. The Consulting Room and Office are in a comfortable and dedicated detached therapy building large enough to comfortably work with a family of four. The Newid Psychotherapy building is approximately 200 metres from the junction of the A5104 and A525 in Llandegla.
Llandegla lies on the border of three counties, Flintshire, Denbighshire and Wrexham. The office is 8 miles from Wrexham, 7 miles from Ruthin, 8 miles from Mold, 12 miles from Hawarden and 18 miles from Chester.
Skype Brief Focal Counselling
Paul offers 6 sessions Brief Focal Therapy for individuals who wish to work towards more effectively managing their emotional difficulties.
Skype 12 Session Formulation
Paul offers a 12 Session Formulation to help individuals formulate and gain insight into their emotional and Mental Health difficulties.
Skype Exploratory Therapy
Paul offers long term Exploratory Psychotherapy to help individuals conceptualise and resolve deeply seated emotional and Mental Health difficulties.